Facilitating Open Communication, Culture and Dialogue between Executives & Employees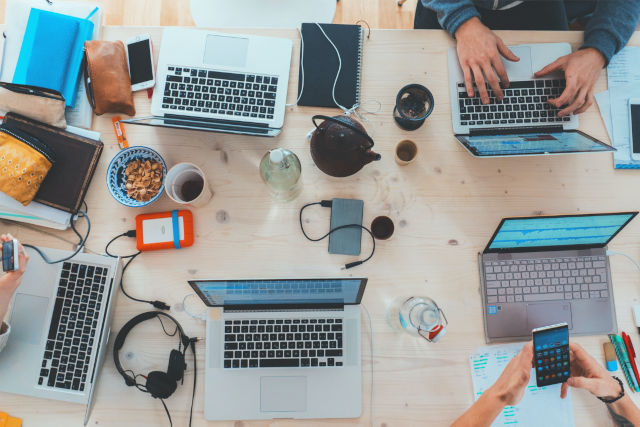 Leadership teams often feel isolated and somewhat removed from the day-to-day activities and interactions at their organization. At one time, segregation and isolation between a leadership team and the rest of the organization was encouraged. Hierarchical structures and an emphasis on 'us versus them,' were very much to blame but thankfully organizations are moving away from this outdated approach to organizational structure. In today's modern workplaces, leaders are more likely to be seen sitting alongside employees, facilitating a culture of inclusivity with an emphasis on two-way communication and open dialogue. In reality, physically sitting alongside every employee is not often possible, particularly for global organizations, so leadership teams have to get creative in connecting and engaging with employees, emulating a means by which they can virtually 'sit' alongside teams, regardless of their physical location, title or role.
The tremendous benefits of employee engagement, particularly between employees and management teams and have long been documented and it all starts with breaking down the barriers and tiers that were built to facilitate antiquated workplace structures. Leading organizations continue to invest in tools and technology to encourage greater collaboration and connection across the workforce. One such tool is a modern intranet, which helps to create camaraderie, engagement and a virtual means of everyone sitting together, encouraging staff across all departments, regions and seniority levels to interact and genuinely engage.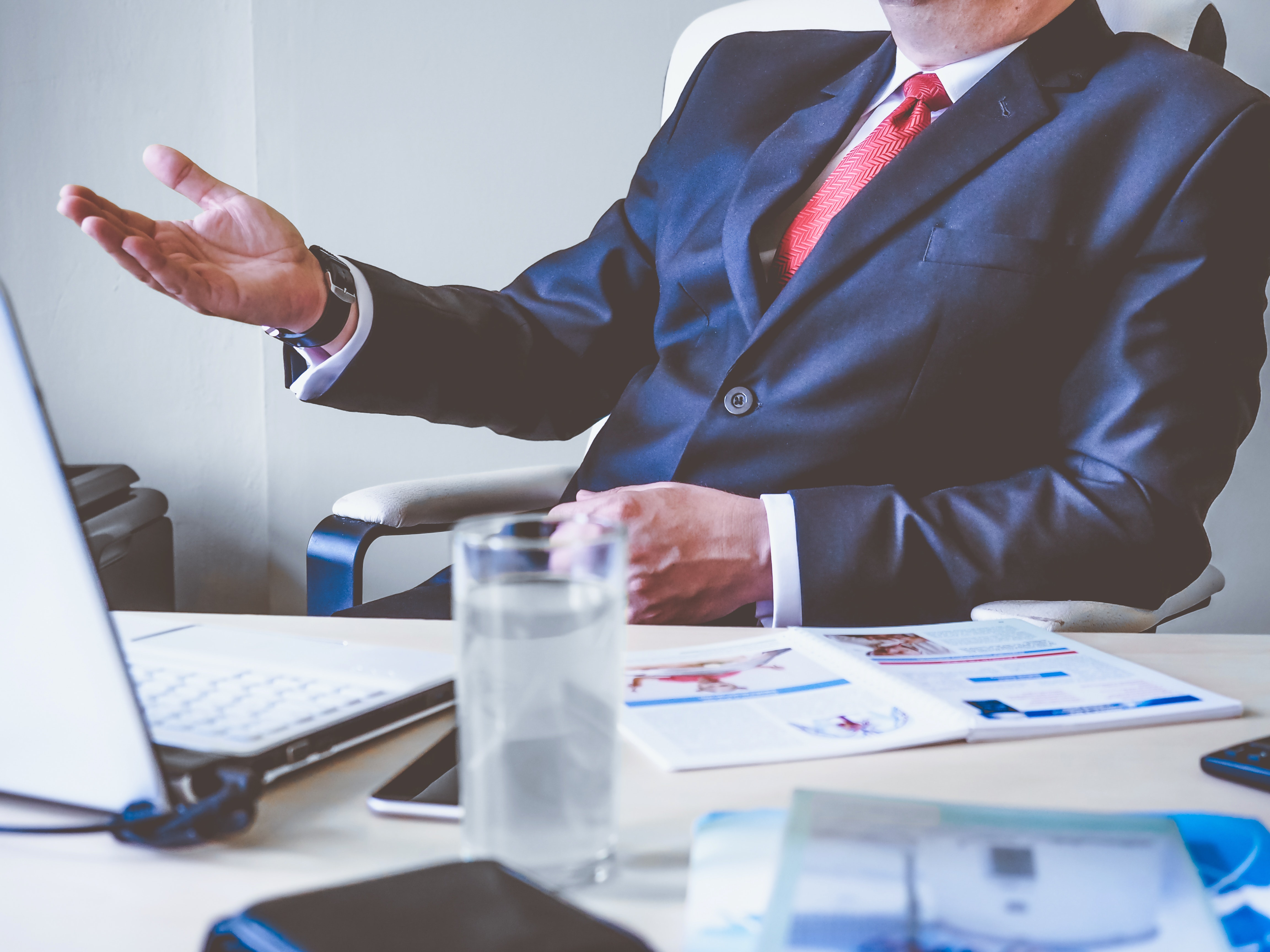 Out with the Old and in with the New… The Evolution of a Modern Workplace
Executives and management teams that want to instill their organization's purpose, vision and values, need a visually engaging platform to consistently and effectively communicate its mission; encouraging employees to truly emulate the organizational purpose. Enterprise intranets are great for breaking down regional barriers, connecting global organizations, and enabling the communication of a unified message across one single platform. A modern intranet also provides a global platform for leaders to truly engage and interact with staff on an informal basis, providing the opportunity to further demonstrate the organization's belief system in an authentic manner.
Formal communications work well when formal communications outcomes are needed. But in the day-to-day interactions of leadership and employees at organizations where two-way communication and open dialogue is encouraged, formal communications may come across as inauthentic and stuffy, further broadening the divide between a company's' leaders and its staff members. To close this gap and encourage genuine engagement, these walls need to be broken down and an effective platform for informal communications needs to be created.
Social intranet features open the conversation between management teams and employees. These features enable management to communicate on a more personal and informal level providing the opportunities for the leadership team to endorse employees that truly live the organizations values. Whether it's commenting on a photo, a news update, a new initiative or a recent charitable event, IntranetPro by Codesigned is a captivating platform where employees and leaders alike can feel comfortable communicating.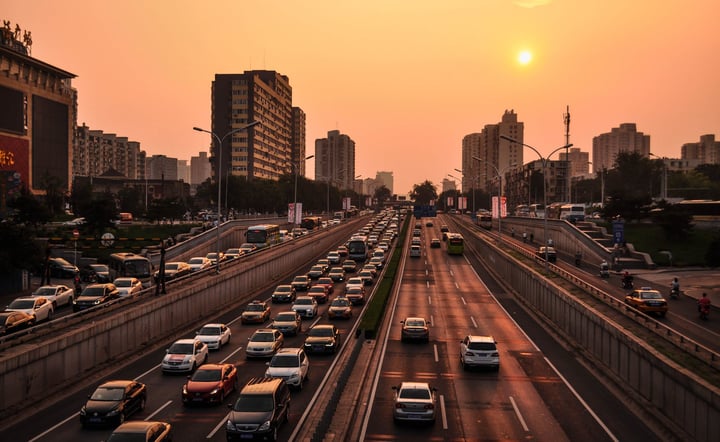 Successful Communication is a Two-way Street
In today's modern workplace, one-way communication from the top down is a thing of the past. Forward-thinking organizations encourage two-way communication that supports, encourages, and engages employees. To achieve the benefits of open dialogue and cooperative communication, organizations must provide the tools and technology to facilitate an ethos of open dialogue.
An enterprise intranet is a modern organization's answer to the "memo board", archaically located in the kitchen or another prominent location at the office. With the increase in globalization and remote working, employees may not have a central kitchen within which everyone regularly gathers to engage, interact, and receive corporate information. Therefore, providing a reliable, central, and accessible location for internal communication is essential. There's a time and a place for both formal and informal communications and a dependable SharePoint intranet effectively facilitates both.
No matter what your organization is facing; a downturn, a merger, or an acquisition, an enterprise intranet is the ideal place for achieving effective change management communications while managing a transition, whatever its nature. Succinct communications and two-way dialogue are vital during times of organizational change, for better or worse.
Uncertainty causes stress for employees so having an enterprise intranet, aka the single source of organizational truth, greatly helps to reduce unnecessary stress and helps to quell rumors during challenging times. When it comes to critical communications that need to be delivered quickly, what better way to broadcast them than on your intranet homepage? IntranetPro enables organizations to effectively communicate alerts and urgent corporate messages to those that need to receive them, fast.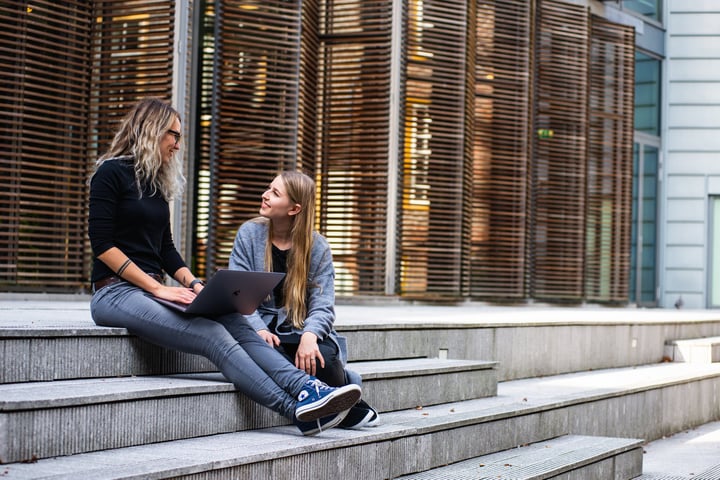 Improving Internal Communications (Measure, Analyze, Adapt, Repeat)
To ascertain if your communication style is resonating with employees it needs to be measured. There's no point in spending countless hours drafting and publishing information that employees are not interested in nor using. And if employees ought to be using such information, then it's important to know that they're not. Intranet analytics provide incredible insights into the content that your employees access most so that you can steer your communications towards the information and mediums that your workforce values.
Many traditional workplaces conduct annual employee opinion surveys in an effort to measure employee engagement levels. Conversely, it's common knowledge among talent management specialists that these snapshot surveys are rife with inadequacies and often wildly ambiguous. To truly measure employee engagement, organizations must obtain regular insights into engagement levels over an extended period of time, as opposed to collecting the opinions of employees on one particular day each year. A modern intranet with robust analytics can provide trustworthy insights into employee engagement so that organizations can reliably measure engagement over time, while gaining an understanding of the content and information that delights their workforce most.
Crafting an Open Workplace Culture with an Enterprise Intranet
A modern intranet creates a platform for staff members across the organization regardless of their role or location to interact and connect with one another. This type of communication goes a long way in creating an organizational culture that's inclusive and empowering. Let's not underestimate the power of a succinct, positive, and inclusive organizational culture. According to Gallup, organizations can achieve 33% higher revenue by creating a culture that attracts star talent.
Corporate culture is created over time by employees. It's the attitude and belief system reflected in 'the way we do things around here.' A negative corporate culture can fester, spread and destroy the morale at an organization. If an ethos of complaining and disengagement are considered the norm, it can engulf your employees both new and old, and the effects on everything from customer service, engagement and the bottom line can be treacherous. On the other hand, a positive organizational culture of connectedness, inclusivity and camaraderie, trickles down into every aspect of the organization, projecting an outward beam of positivity and enthusiasm. The reality is happy employees = happy customers and it all starts with your corporate culture.
A positive corporate culture is a tremendous asset to any organization. It reduces staff turnover and increases employee satisfaction. What's not to love? A modern intranet is the ideal place for crafting, honing and shaping an organizational culture to be proud of. Implementing a platform to facilitate communications that continuously promotes the same values, messages and insights can go a long way in shaping an organization's culture.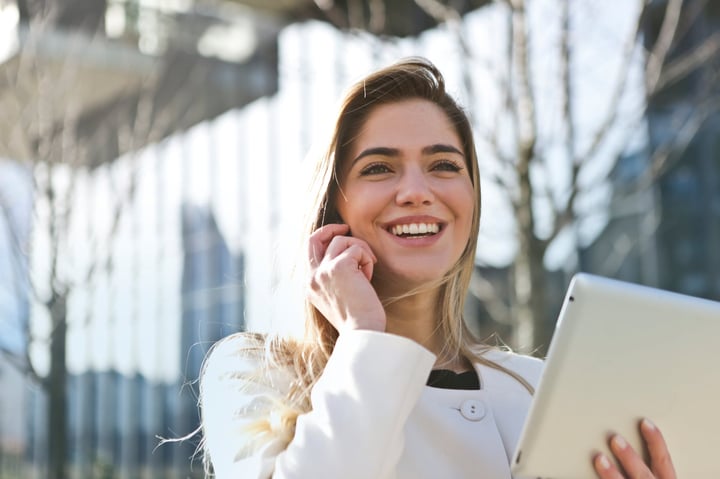 Creating a Sustainable Modern Intranet
Many organizations struggle to communicate effectively and authentically through static and stale HTML intranets that employees have abandoned as outdated graveyards of information. It's disheartening for intranet content managers who attempt to update the intranet with relevant information, to encounter outdated content from 2010 that has never been archived, deleted or replaced.
On the other hand, employees love using an intranet that they can trust. Effective content management capabilities are essential for keeping your intranet up-to-date and reliable. They enable and support intranet managers in ensuring that information contained on the intranet is current. It's important to note that a successful enterprise intranet is not a 'one and done' exercise. It needs to be monitored and maintained to ensure that it stands the test of time and continues to remain as a significant asset to the organization. Adopting a solid approach to governance is key in helping organizations and intranet teams to achieve an enterprise intranet that employees can rely on for the foreseeable future.
A huge benefit associated with modern SharePoint intranets, is that intranet and content managers, often part of the internal communications, marketing, or human resources teams, don't need to have in-depth technical or SharePoint knowledge to manage the enterprise intranet platform. Modern intranets provide a user-friendly interface so that intranet managers can easily and intuitively create, update and delete content as necessary.
To reduce information overload and content fatigue, IntranetPro puts the intranet users in the hot seat, enabling them to tweak and choose the homepage content to suit their specific needs. This provides employees with intranet ownership and saves them a great deal of time by providing quick access to the tools they use most while ensuring that they receive the information that matters most to them.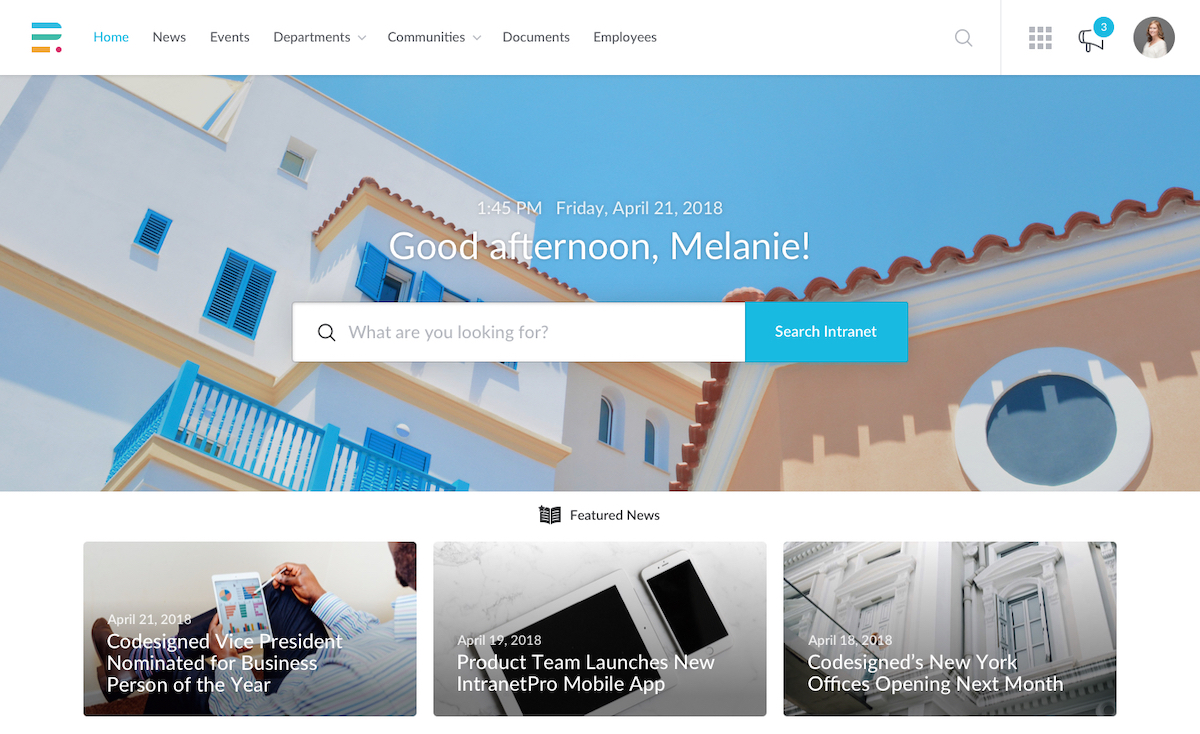 The Modern Intranet Accelerator for SharePoint & Office 365
At IntranetPro we're proud to play our part in facilitating open communication and engagement between executives, management teams and employees. We understand that no two organizations are exactly alike, so we specialize in customizing IntranetPro so that it's sized to fit your organizational needs, not the other way around. We have a wealth of intranet knowledge and experience in delivering the ideal SharePoint and Office 365 intranet to organizations and we're only content when our customers are too. It's important to us to create enterprise intranets that employees love to use, so you can rest assured that you're in safe hands with the expert team at IntranetPro.
If you're ready to harness your corporate culture and empower your employees with open communication and two-way dialogue, then contact us today. We truly enjoy delivering robust enterprise intranet platforms that enable organizations to communicate their mission, vision and values so they become truly ingrained and successfully reflected in their corporate culture. Get in touch today to see how you can achieve the ideal intranet for your organization.