Accelerate your SharePoint and Office 365 environment with IntranetPro
IntranetPro is a Modern Intranet with powerful features and enhancements purpose-built to unlock the power of engagement within your Enterprise.
See the features loved by hundreds of thousands of users.
Trusted by the best companies in the world
Features of IntranetPro
Explore the features that set IntranetPro apart from all the rest
Smart Search
Finally, the power to find what and who you're looking for without wasted clicks or searches.
Communicate
News and messaging across your entire organization, regardless of location or device.
Personalize
Fresh content delivered individually, based on interests, permissions, and suggested feeds from management.
Collaborate
Empower your employees to do their best work with public and private sites and pages.
Engage
If you've used an app, you'll be right at home with IntranetPro. Rich media, native video, and social features.
Succeed
Never miss a beat with your fully responsive, secure, simple to govern, engaging intranet.
Enterprise Customizations
Break free of the box. Tailor IntranetPro to your business needs and employee requirements.
Smart Search
Give your employees the power to find what and who they're looking for smartly, without wasted clicks or searches. Quickly find anything on the intranet with IntranetPro's search bar, available from everywhere on the site. Simple to use filters narrow down results so you can find anything you're looking for without a second search.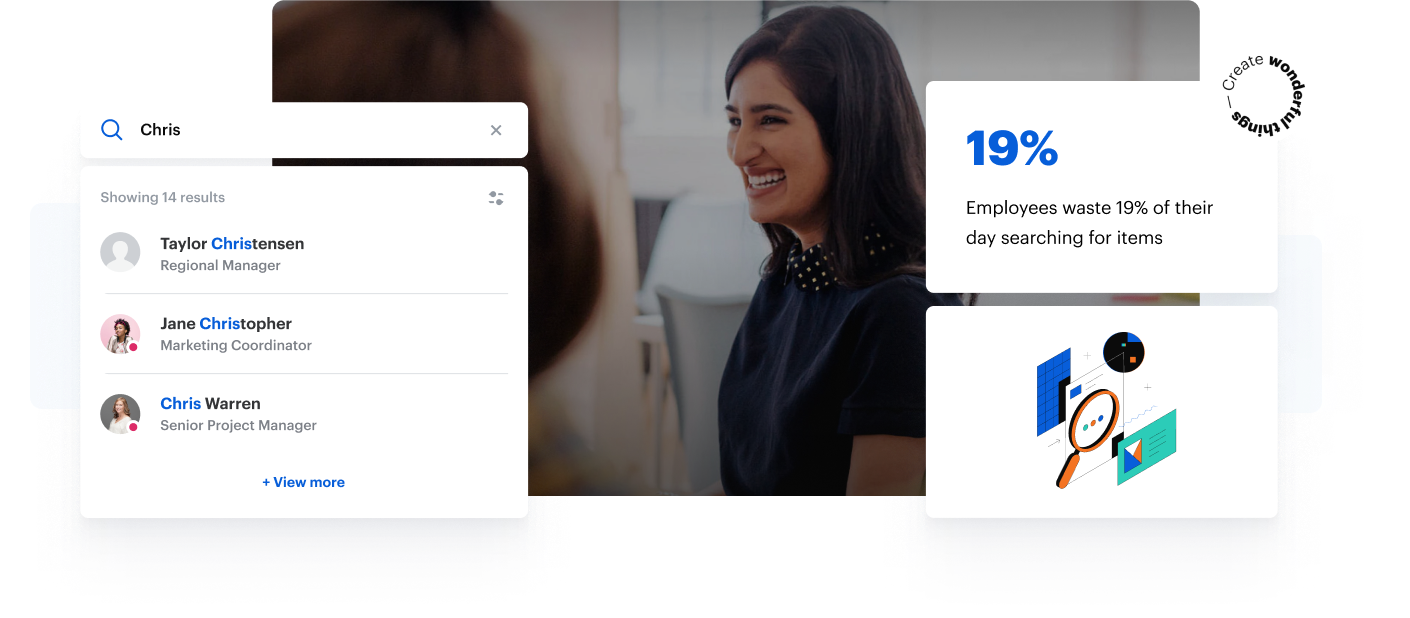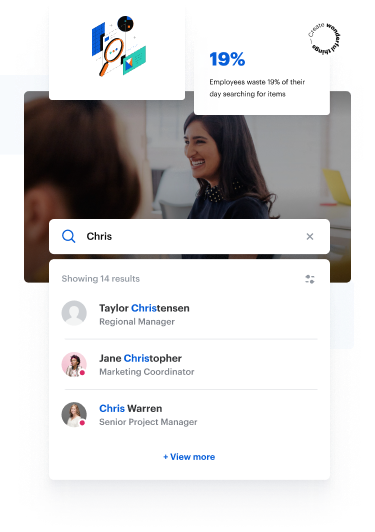 Global Search
Our powerful search scans your entire intranet, available from everywhere on IntranetPro
Smart Search Design
Easily decipher between documents, news, events, links, and sites with user-friendly icons
Search Results Page
Beautiful design, custom refiners, and intuitive verticals make for a powerful experience.
Typeahead Search
Immediate search results as you type based on history, company search history, and most viewed
Promoted Search
Top-line multiple specific search results to individual users based on program/ management needs
Customized Verticals
Filter search results by Intranet item type: Documents, news, events, people, etc.
Enhanced Ranking
Smarts that ensure your team only see the most relevant search results, every search.
Enhanced Refiners
Quickly filter a large search result sets based on custom metadata.
---
---
---
Communicate
IntranetPro is your enterprise's single source of truth, keeping your company aligned and culture-tuned. Whether it's an urgent alert, a location-specific message, or the latest department news, IntranetPro is built to communicate - easily, beautifully, and quickly. The fully responsive experience lets executives compose on the go, communications professionals review between owners and ghost publish articles that make even the best blogs flush with envy.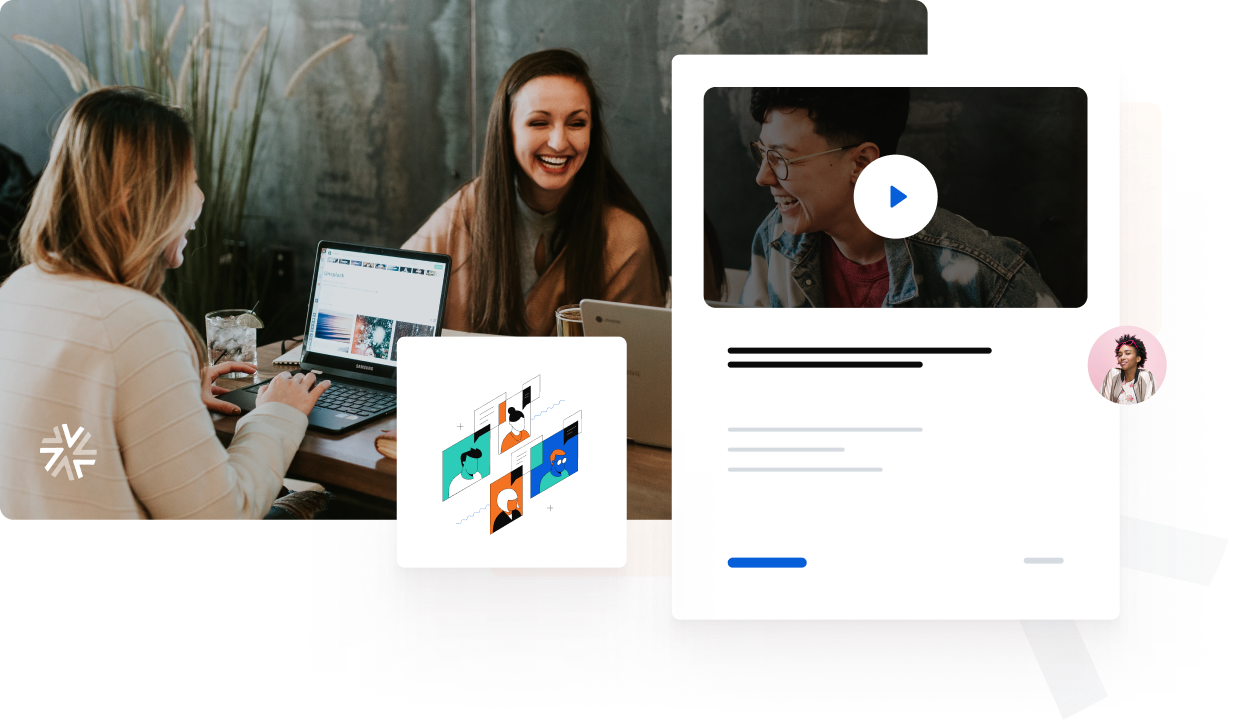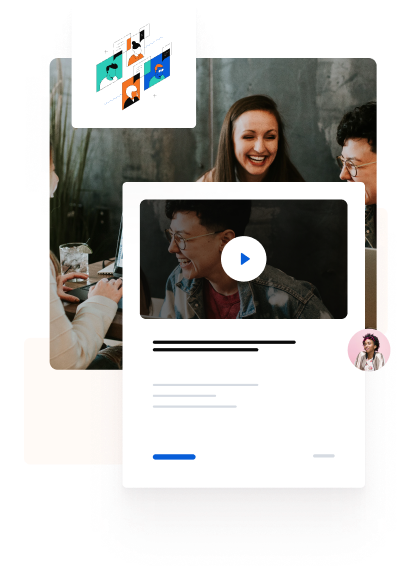 Powerful Content Management
IntranetPro's powerful tools turn everyone into a content master, regardless of technical skill.
WYSIWYG Editing
Freely write, add media, multiple content types, and edit articles with IntranetPro's 1:1 experience.
News Drafts
Write and format your content within IntranetPro and leave in a draft state for team edits.
Scheduled Publishing
Fill your monthly and quarterly content calendars to stay ahead and keep the team engaged.
Ghost Publishing
Keep your company on tone and brand with ghost publishing for management and executives.
Rich Media
Break free of tired, stale emails. Engage your organization with images, videos, and more.
Video Embed
Embed videos right from your preferred service: Stream, Vimeo, YouTube, Wistia, etc.
Targeted Notifications and Alerts
Communicate critical information to your team at a specific or company-wide level.
Global Announcements
Keep the organization informed quick to create color-coded banner announcements.
Comments
Social commenting on content across IntranetPro keeps your organization engaged and heard.
Likes
Quick likes help everyone on the team see what content is most useful and appreciated.
---
---
---
Personalize
Finally, an internet made just for you ✌️ With IntranetPro, fresh content is delivered to users based on their interests, permissions, and suggested feeds from management.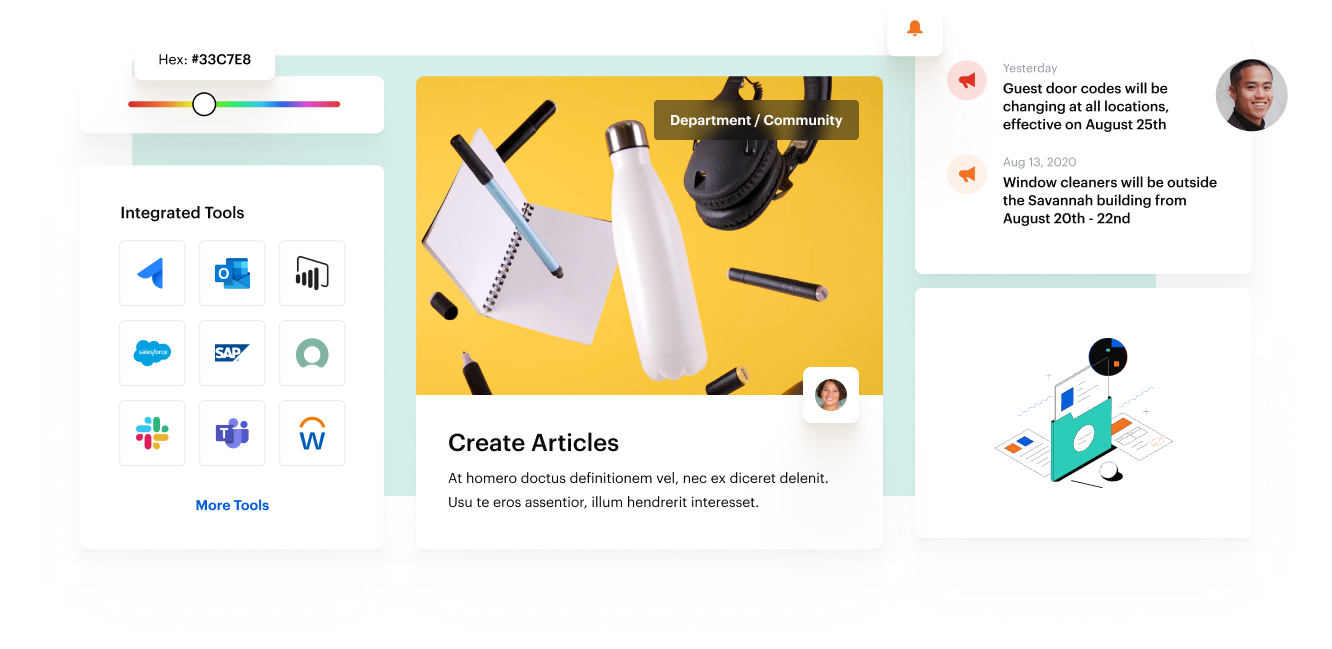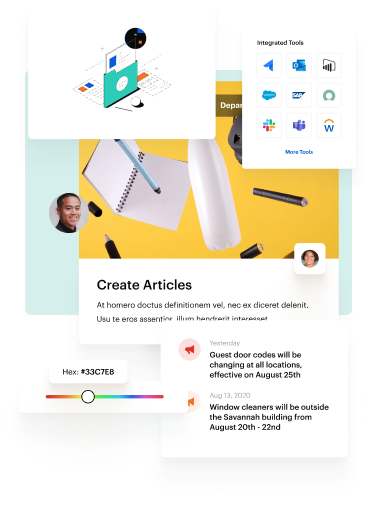 Personalized Homepage
IntranetPro gives each user their own homepage with a feed based on their interests/ needs.
Personalized Content
Relevant individualized news, documents, events, and social posts based on follows.
Personalized App Launcher
Bookmark your essential desktop and SaaS applications right on your IntranetPro homepage.
Notifications
Targeted, relevant notifications and alerts deliver critical information to specific users.
Following
Mandated and users selected department and community sites are quick and easy to follow.
Social Feed
Engage your audience with questions, polls, praise, photos, and more.
---
---
---
Collaborate
Easily work within and across departments with IntranetPro. Engaging company-wide department sites, public and private community sites, and pages that let you build what you need - on brand with ease. Impact engagement and help your employees do their best work with versioning, rollbacks, co-authored documents, social comments, likes, events and more.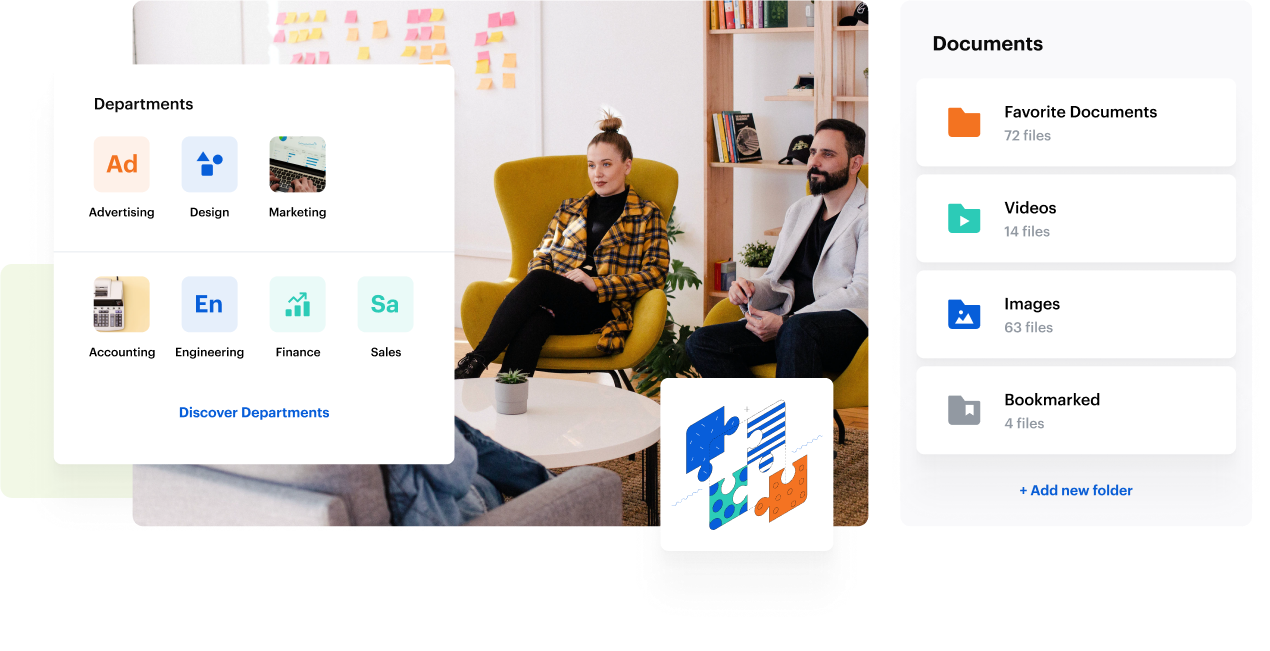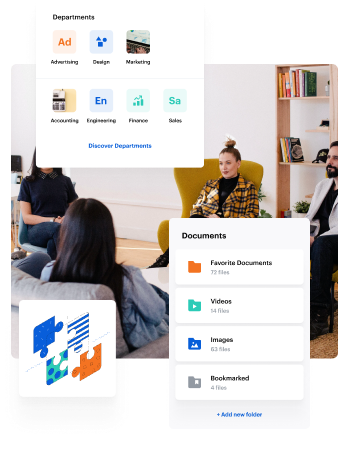 Work From Anywhere
IntranetPro is built mobile-ready and responsive, so you can author and engage from anywhere.
Document Collaboration
Multiple people can easily work together on a document, spreadsheet, or presentation.
Communities
Public and private sites where employees can come together over a project or passion.
Discussions
Talk and collaborate with ease with IntranetPro, ensuring all ideas are considered.
Commenting
Social commenting on content across IntranetPro keeps your employees engaged and heard.
Social Liking
Quick likes help everyone on the team see what content is most useful and appreciated.
People Directory
Search and connect with people based on role, department, region, name, and more!
Organizational Chart
Always know the line of command and whom to communicate what to with IntranetPro.
Events
See what is coming up and what you should attend with Events across IntranetPro.
---
---
---
Engage
Say hello to your modern internet. IntranetPro's consumer-grade interface takes cues from your favorite search and social media, so if you've used an app, you'll be right at home. IntranetPro's intuitive user interface is backed up with rich media, native video, out of the box social features, a popular employee directory, and more. Intranet analytics tools are deeply embedded across the experience, so authors can dive deep into what is driving traffic, who is engaging, and plan what to roll out next.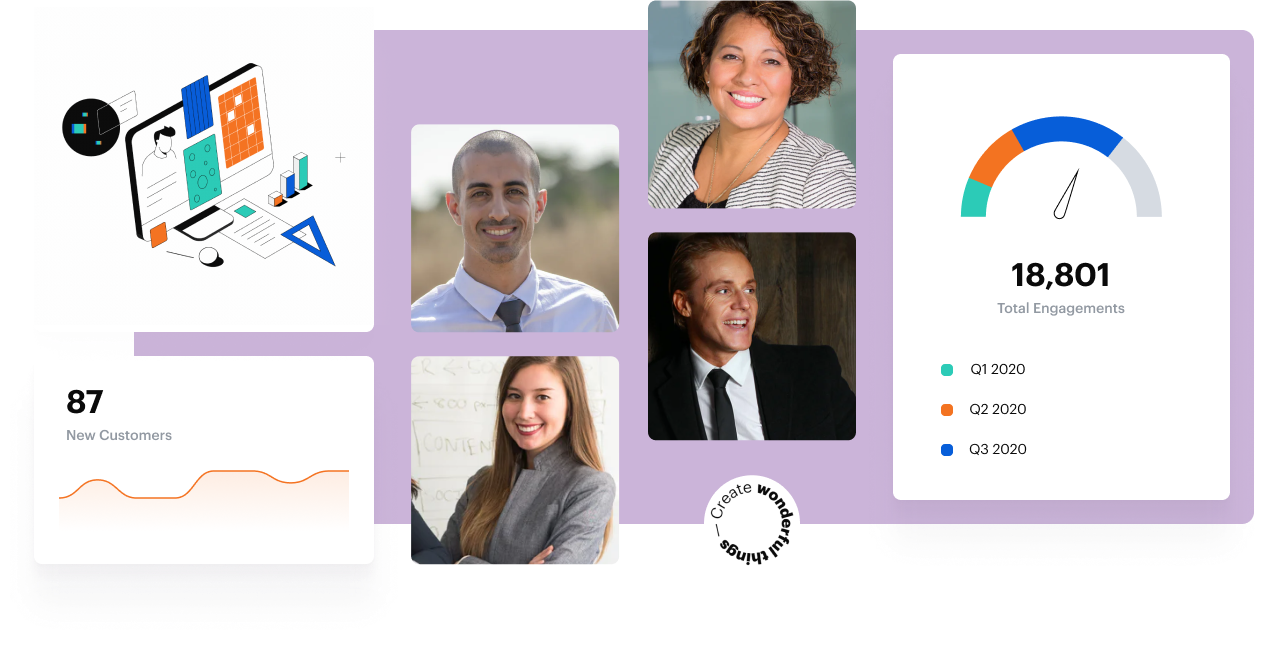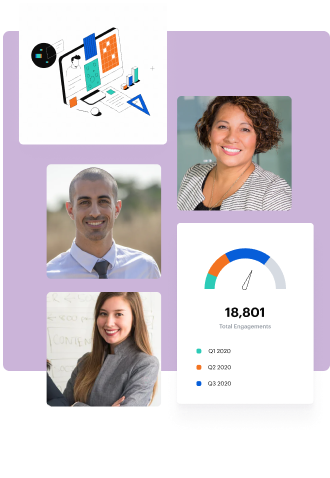 Consumer Grade UX
IntranetPro just works. Finally, an intranet that doesn't require an IT pedigree to navigate or use.
Personal Intranet
Stay engaged with news, documents, events, notifications, and more - relevant to you.
Quick Links
Keep employees informed with font and center links to updated policies, new guidance, etc.
Polls
Fun and useful, gather feedback, and drive employee engagement with homepage polls.
Important Contacts
IntranetPro keeps important contacts top of mind and easy to find across pages and sites.
Analytics
Know who is engaged and with what with IntranetPro's deep analytics data across the intranet.
Easy Media
• Attachments
• Bulk document upload
• Drag and drop
• HTML

Multilingual Support
Multilingual-ready day one. Primer día multilingüe. Prêt pour le multilingue le premier jour.
---
---
---
Succeed
Built on and for Microsoft SharePoint - the premier enterprise collaboration platform.

Never miss a beat with your easy to administer, super secure, ready to launch in weeks IntranetPro. Our battle-tested solution is used by companies from 1000 to 100,000, so you can be assured you're launching with the tools that count. With unlimited users standard, make your SharePoint investment work for you.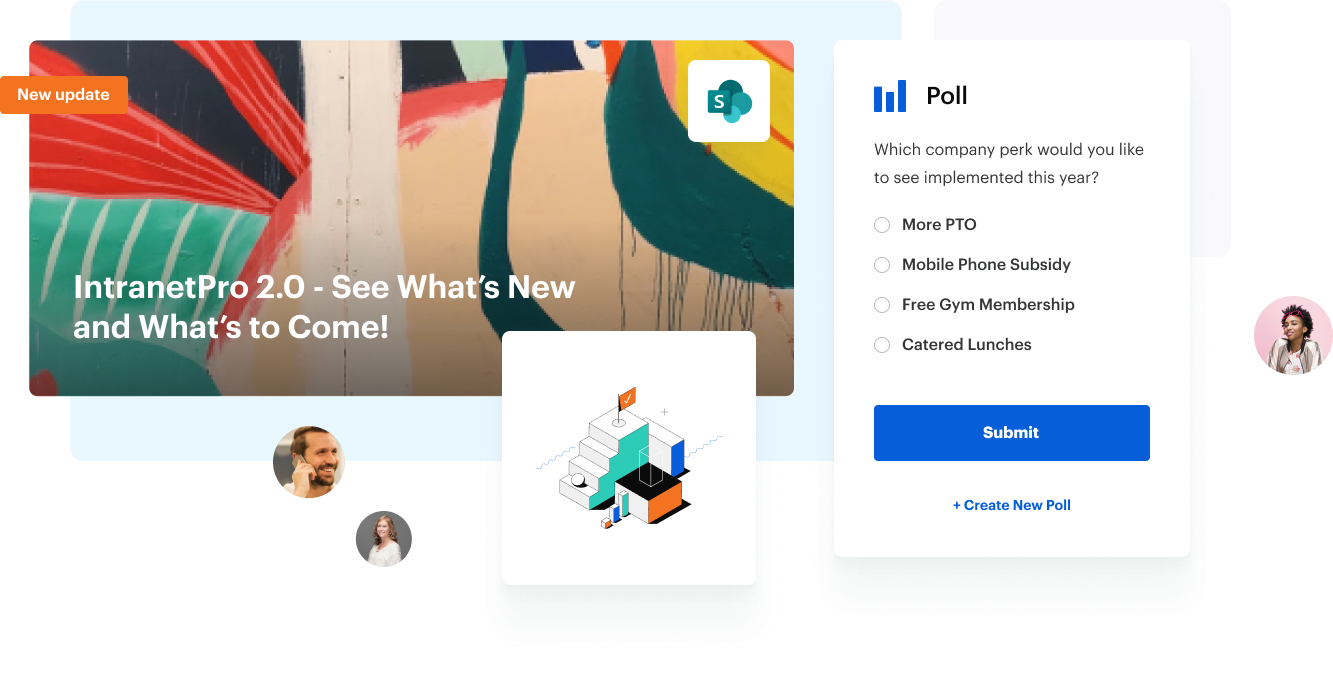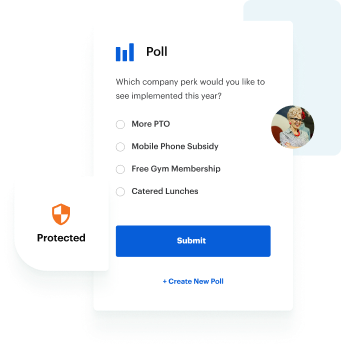 Battle Tested Features
Built for and trusted by enterprise organizations all over the world - we create the toolbox you need.
Military Grade Security
Built 100% in Microsoft's SharePoint environment, including its best-in-class security.
Online, On-Prem, Hybrid
Designed to meet companies where they are, with the tech stack they have today, onward.
Unlimited Users
IntranetPro provided unlimited users so you can grow without user limits or expensive per-user fees sneaking up on you.
Dev. Environment
Each install includes its own developers' environment, so your team can test, adjust, and roll out successfully.
Codesigned Intranet Navigators
Our proven team of experts, with years of intranet deployment experience, guide each project.
Dedicated Customer Success Manager
We love our customers and support each with a senior success manager to support your install.
Content Owner Training
Live and recorded training sessions for content owners on IntranetPro.
Site Admin Training
Live and recorded training sessions for admins of IntranetPro.
Target Response Times
Know when you'll get a response to your support ticket with our targeted response times.
Premier Helpdesk
IntranetPro support center backed up by our world-class team.
---
---
---
Break Free of The Box
No two enterprises are the same. You shouldn't be getting an experience made for another company that only solves a portion of your needs. We tailor each instance of IntranetPro to your exact business needs and employee requirements, including individualized intranet roadmaps for new features that provide a tailored intranet experience to help you iterate on your successes.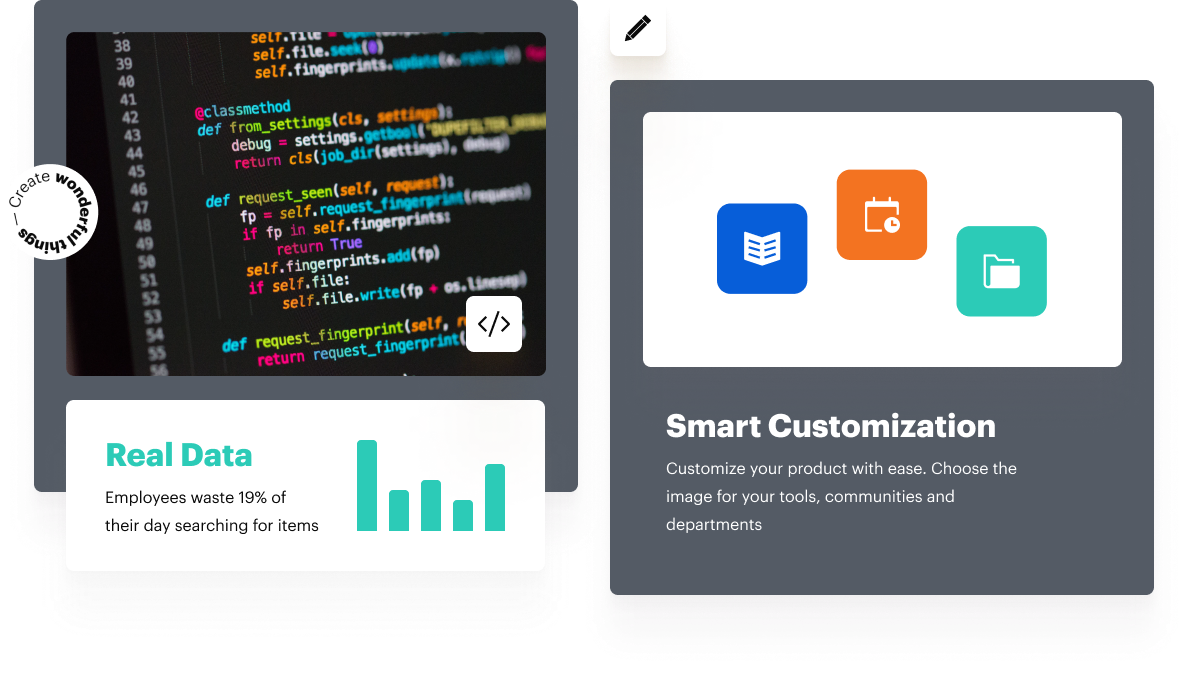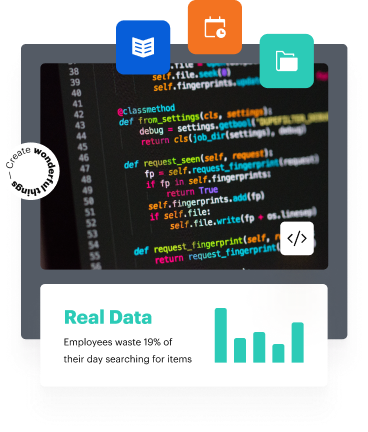 Platform Upgrade Roadmap
IntranetPro's roadmap for enhancements built from our customer's feedback.
Personalized Platform Roadmap
Individualized intranet roadmaps for new features for a tailored IntranetPro experience.
Customized Development
Fit IntranetPro to your exact business needs and employee requirements.
Technical Consulting
Where Codesigned was started, our expert developers can level-up your SharePoint environment.
Custom Analytics
Need a specific analytics solution? 3rd-party tools like Google Analytics build right in.
Federated Search
Need to search other data sources at once? We can map out your IntranetPro solution.
Employee Marketplace
Custom internal marketplaces for your employees to sell to other employees.
Custom Integrations
Have industry-specific software that keeps your team running? We can integrate it!
Governance
Map your processes, roles, standards, rules, and guidance is critical - we live for this.
Websites, Extranets, Hosting
Intranet's and SharePoint are just a part of what our team can do.
---
---
---
Unlock the power of your enterprise
Start your intranet journey today with a live demo from one of our expert intranet navigators.