3 Design Tips to Boost Employee Engagement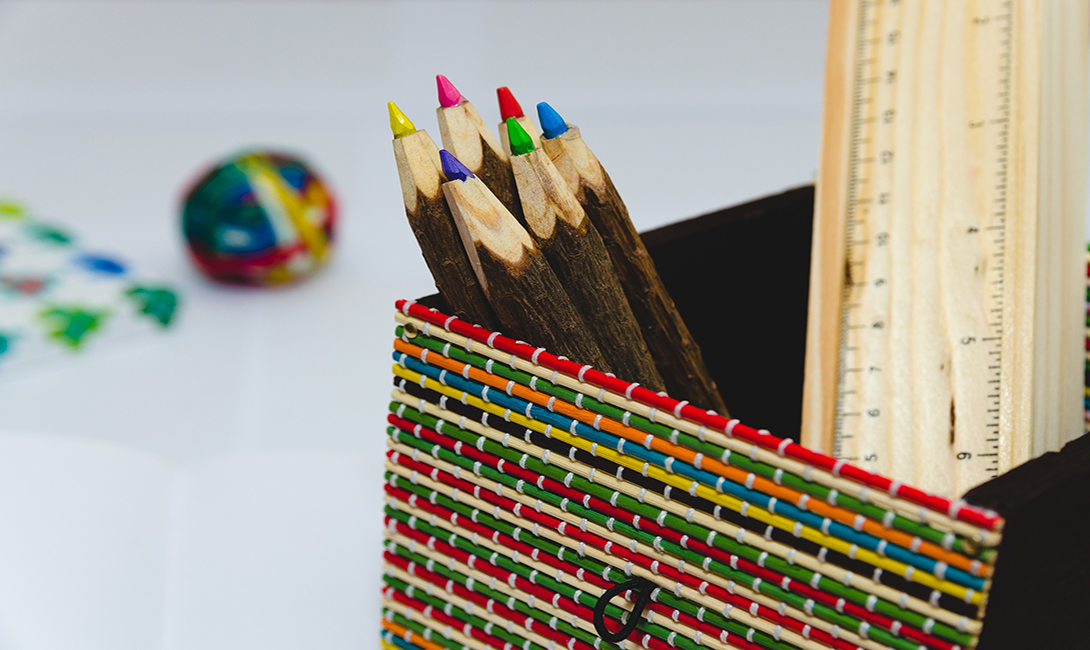 When organizations have trouble with intranet user adoption, the underlying culprit often has to do with issues surrounding the user experience. When an intranet isn't designed so that users can quickly find what they need, people simply won't use it. Our new solution Intranet is designed in a way that will motivate employee engagement instead of steering people away from something that should make their job easier. When we start work on designing a new intranet for a client, we ask ourselves these questions:

1. What do they need?
2. How do we best lay it out on a page?
3. How should it look?

In the following blog post, I'm going to talk about how we've answered these questions with Intranet and the three most important tips for designing an intranet with your end users in mind.
Tip #1: Keep it simple.
Simple, in this case, doesn't mean plain. For us it means free of complexity and unnecessary elements that could clutter your intranet and keep users from engaging with your content. Rather than distracting these user, we want to include features they need and will use. Of course, different organizations need different functionality for their intranet, but no matter what those needs are, we like to keep intranets clean and clutter-free.

With Intranet, we've stripped away the noise and stuck to the basics of what content creators and consumers really need. We've included SharePoint features that people use most often, leaving us with a rotating image slider for important announcements, a news and events section, document library, and a department directory.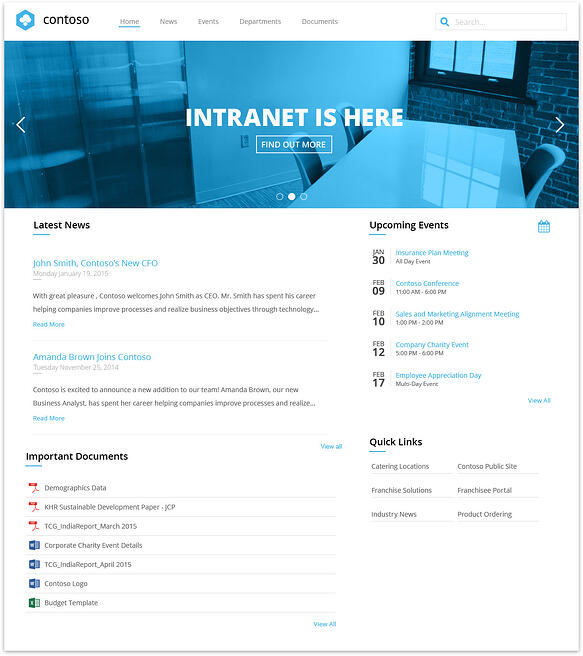 Tip #2: Draw attention to what counts.
There's a science to the way we scan websites, and good design caters to that perspective. Eye-tracking studies show that users tend to look at web content in a certain order, and by following that order we can present our information in an effective way. In the case of the F-Pattern, visitors scan the top row from right to left, followed by the next row of content, and then quickly gaze down the left column. We often rely on this simple pattern when laying out our intranet designs.

On Intranet, the first major visual we draw users towards is the image slider. It gives visitors a place to rest when they first land on the site and provides quick, important announcements. Following the slider, we highlight Latest News and Upcoming Events, followed by an Important Documents library and Quick Links. While every user won't scan the page in this order, we try our best to give the most amount of information in easy to digest sections.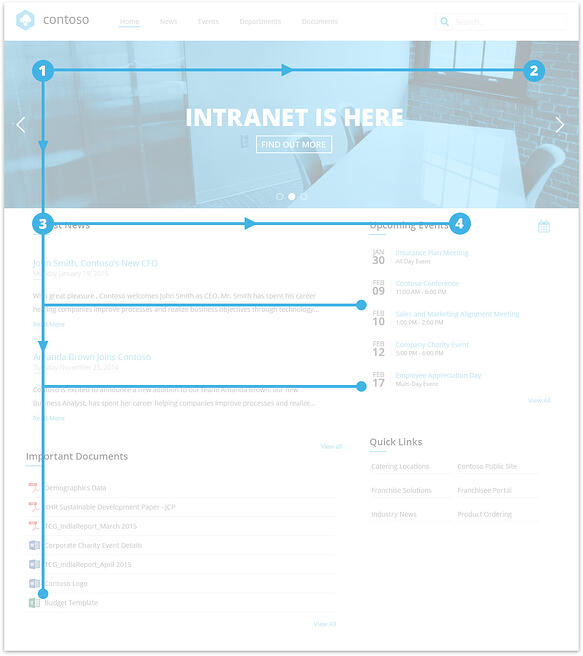 Tip #3: Keep it clean.

Whether it's intranets, extranets, or public-facing sites, we like to keep things simple and clean. Picking the right fonts, icons, and colors is just as important as the placement of your content, and users will notice when time and care when into an intranet's design. By presenting information in a way that's enjoyable to read, simple to update, and intuitive to navigate, it's easy to create a welcoming digital workspace.

These three design tips will do wonders to foster employee engagment on your site and in your workplace. Although these steps help, you may be wondering, "Why does engagement even matter? What does it do for me?" Engagement is one of the biggest benefits to employees and a company as a whole.

For specific information on how engagement helps, check out our free white paper: The Importance of Employee Engagement.