RSUI Achieves a Custom SharePoint Intranet without the Premium
RSUI renews their old Intranet with a customized Insurance Intranet from the expert team at IntranetPro. Discover why RSUI selected IntranetPro as the top provider for their custom SharePoint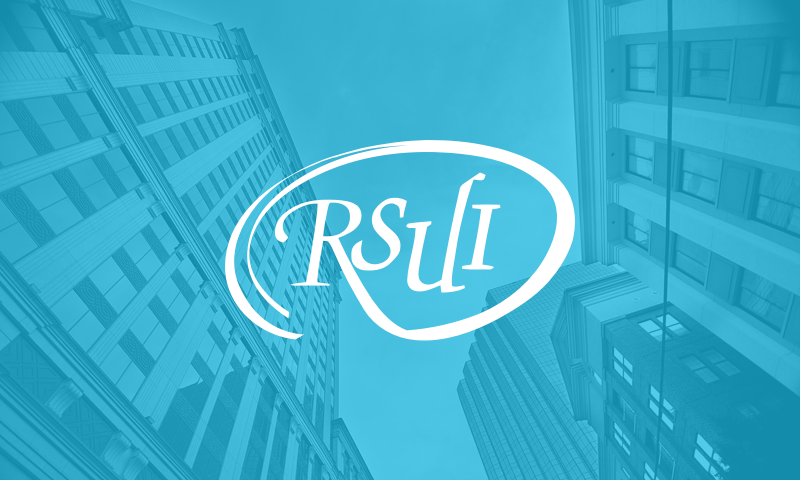 SharePoint Intranet Customer Overview
- Industry: Wholesale Insurance
- Company Size: 450+ employees
- Location: Atlanta, GA
Intranet Project Overview
RSUI Group, Inc. was looking to update their outdated SharePoint 2010 Intranet. They initially wanted a custom-built 2016 solution. However, after seeing IntranetPro, RSUI realized the potential of a ready-made insurance intranet. We demonstrated our expertise in customizing SharePoint Intranet platforms and the RSUI Connect homepage is now a hub for employees to engage, communicate, and share information throughout the organization. Their SharePoint intranet utilizes custom images, banners, menus, grid and list views, as well as custom layouts and tabs, to uniquely cater to the preferences of individual users.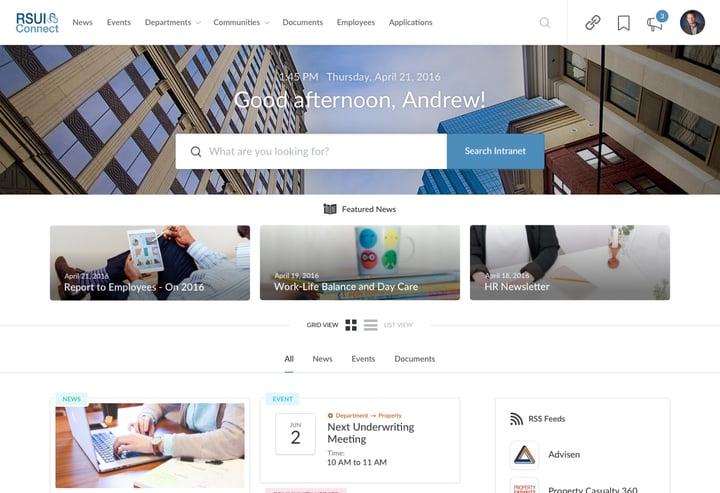 The Challenge
RSUI was initially set on a completely custom-built intranet, so we understood their need for an ultra-customized, robust SharePoint intranet portal. Features such as user-personalized announcements and quick link access were on RSUI's Communications Team's list, so we delivered an insurance intranet that combined the strength of SharePoint and the customization of a built-from-scratch platform to create a unique site that met and continues to meet all RSUI's internal communication needs.
Pages: The Building Blocks of Information
IntranetPro Pages have always been an effective way for organizations to organize and share content inside of departments and communities, but when the Communication's Team first saw it they weren't sure it was right for their enterprise intranet platform. So, we worked with RSUI to gather information about specific features they required in their intranet site. Then our team of IntranetPro developers got to work fulfilling those needs. For example, we implemented an easy-to use and fully personalized homepage with tabs for quick access to company resources like news, events, and documents. Employees can save links and RSS feeds to easily access them from their dashboard. Furthermore, the calendar features events specific to each user and announcements can be targeted for maximum engagement.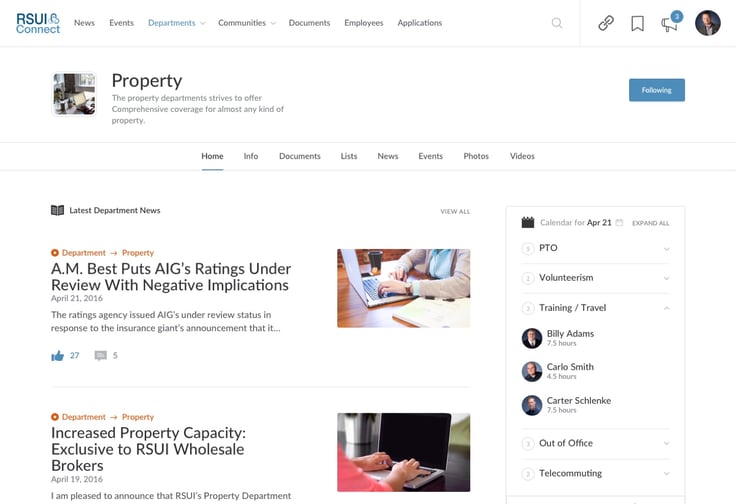 Other customizations include a system that allows users to change the layout of information on a page from one column to two columns. This makes things easier on RSUI's content owners and provides users with a way to consume information on their own terms.
Company Leaders Engaging Employees: Sports Edition
A custom ready-made intranet can connect an organization's leaders with their employees and help increase engagement between levels of leadership. RSUI loves sports. So much so that the higher-ups at the organization decided to buy season tickets for several sports teams in the Atlanta area and offered them to employees for free.
However, RSUI needed a robust system for distributing these tickets. To help RSUI accommodate all these tickets, we created a unique calendar scheduling platform within the SharePoint intranet that made it easy for employees to see which game tickets were available and request their tickets.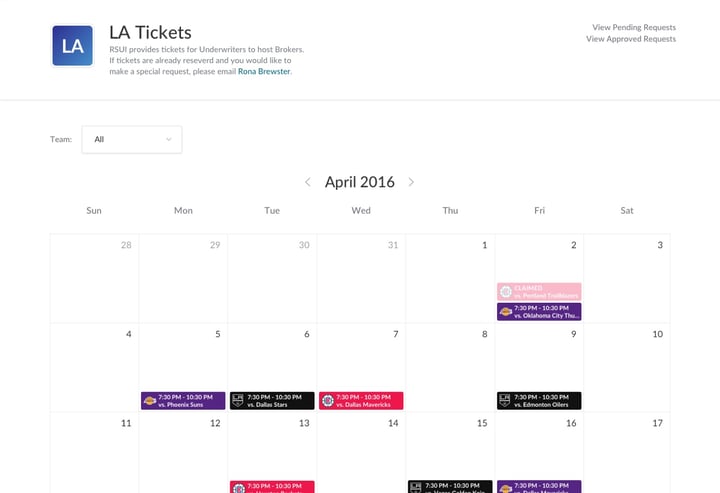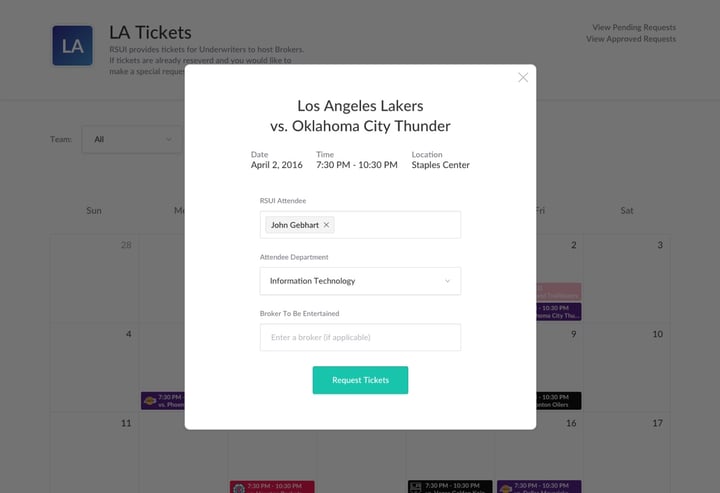 RSUI Custom SharePoint Intranet: The Results
Our dedicated team at Codesigned continues to collaborate with RSUI to develop its custom insurance intranet solutions that meet their unique needs. The features mentioned above are just the tip of the iceberg for the 30+ customizations that the IntranetPro team implemented for RSUI. We continue to work with RSUI to add and modify their SharePoint intranet platform as needs are realized. SharePoint provides a phenomenal base product, and we provide the features and flexibility that fit the individual needs of both your organization and your employees. Request a demo below to see for yourself.